Weems CEO Walker Attends Florida Hospital Association Roundtable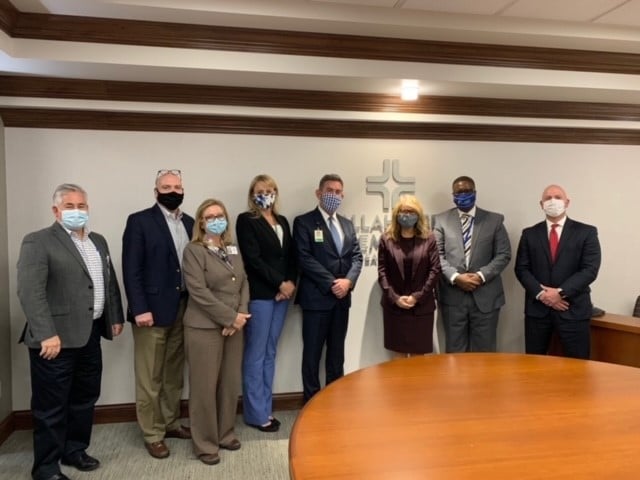 David Walker, CEO of George E. Weems Memorial Hospital, along with other North Florida hospital administrators, met this week with Florida Hospital Association (FHA) President and CEO Mary Mayhew to discuss regional health care priorities and the latest information on COVID-19 case trends and preparation for vaccine distribution.
According to FHA President Mayhew, the roundtable meeting served as an opportunity for health systems across the region to collaborate and share best practices on this area's health care priorities – from access to care in rural communities to mental health and substance abuse prevention. "Hospital teams throughout this region are continuing to respond to the COVID-19 crisis while preparing for the distribution of the COVID-19 vaccine and ensuring frontline workers and our most vulnerable are prioritized in the early days of its distribution," Mayhew said.
In addition to Walker, the FHA roundtable included hospital administrators including Mark O'Bryant from Tallahassee Memorial Healthcare as well as hospital leaders from Panama City, Perry and Liberty and Calhoun counties.
"Meeting with all the regional hospital leaders allowed us to gain perspective on how our neighboring communities are weathering the challenges of medical care during this pandemic," said Weems Memorial CEO David Walker. "I was pleased to learn that Weems is on par with other larger hospitals in terms of the quality care we provide and I feel we will be prepared to successfully launch the vaccine distribution in our community once it becomes available."
Founded in 1927, the Florida Hospital Association (FHA) comprises over 200 hospitals and health systems from across the state. Through representation and advocacy, education and informational services, we support the mission of our members to provide the highest quality of care to the patients we serve. The association is governed by a Board of Trustees and officers elected by the member institutions.